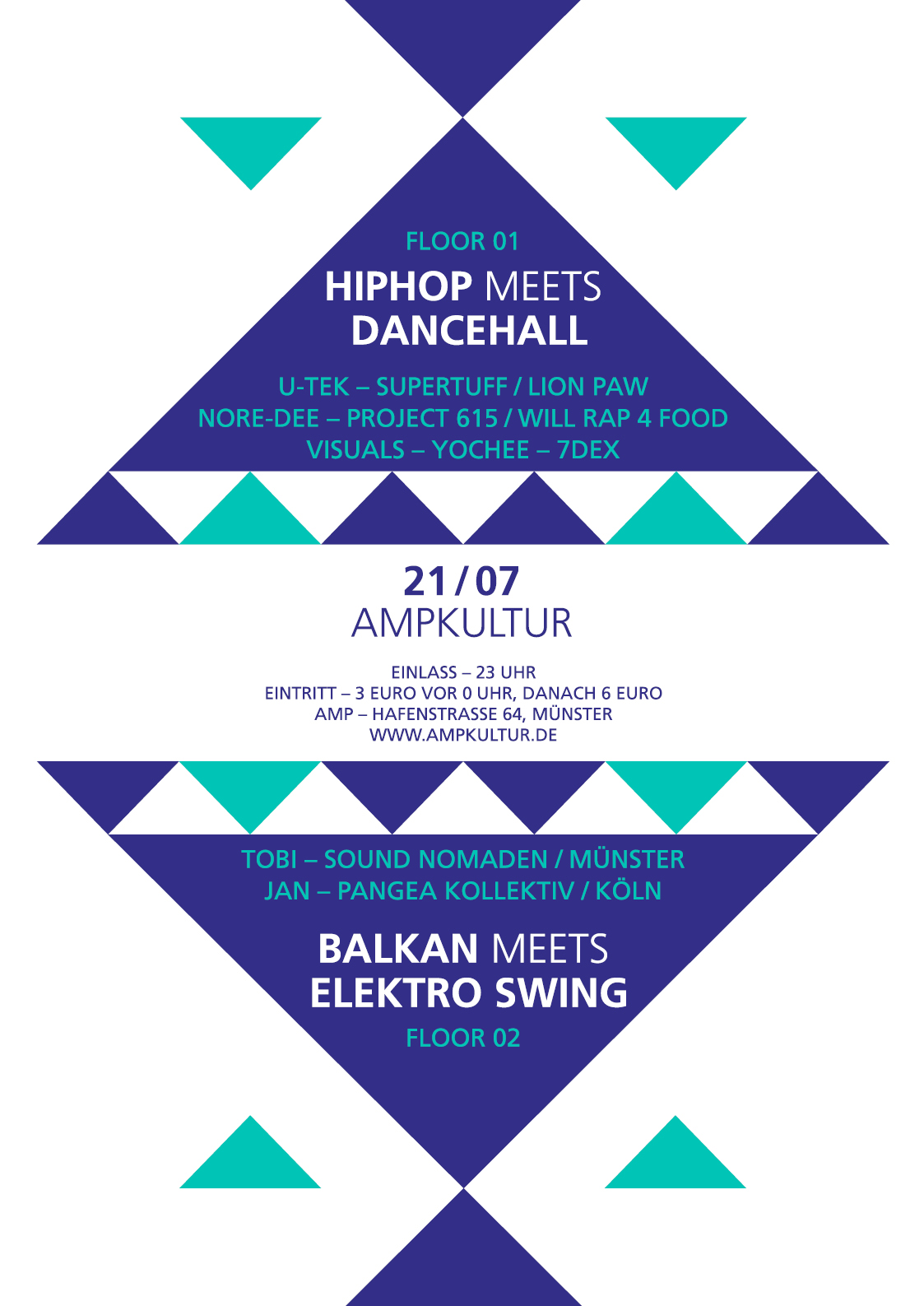 21 Jul 2012

21.7.2012 – ampkultur. die dritte

AMPKULTUR – ein Projekt über Szenegrenzen hinaus – auf 2 Floors.

Die AMPKULTUR ist nach dem Sommerurlaub zurück in Münster und hat jede Menge Styles im Gepäck.

Auf dem Tanzteppich stehen Utek von Supertuff/Lion Paw und Nore-Dee von Project 615/Will Rap 4 Food bereit, um das zu vereinen, was zusammen gehört: Dancehall und Conscious Rap. Bassboost gibt es vom Kunterbunt Soundsystem, Visuals von Yochee (7dex/MS).

Im schwarzen Loch kümmern sich Jan vom Pangea Kollektiv (Köln) und Tobi von Sound Nomaden (MS) mit einer Mischung aus Balkan Beats und Electro Swing um den passenden Soundtrack zum Sommer.

Einlass: 23h – Eintritt 3€ vor 0h, danach 6€.
Mehr Infos auf www.AMPKULTUR.de.
1. Floor – Dancehall meets Rap
U-Tek (Supertuff/Lion Paw/MS)
Nore-Dee (Project 615/Will Rap 4 Food/MS)
Visuals: Yochee (7dex/MS)
Bass Boost vom Kunterbunt Soundsystem (MS)
Mit Musik von C2C, NTM, Wu-Tang, Project 615, Dendemann, Jay Dilla, Cunninglynguists, Jedi Mind Tricks, Lightheaded, Looptroop, Hocus Pocus, Onyx, Ninja Tunes, Dilated Peoples,Macklemore, Nas, Mobb Deep, Hieroglyphics, Sniper, Boot Camp, Shabba Ranks, Alborosie, Konshens, Barrington Levy, Mr. Vegas, Damian "Jr. Gong" Marley, Bounty Killer, The Fugees, The Roots, Ini Kamoze uvm.
2. Floor – Balkan Beats meets Electro Swing
Jan (Pangea Kollektiv/Köln)
Tobi (Sound Nomaden/MS)
Mit Musik von Dunkelbunt, Parov Stelar, Riva Starr, Lazlo, Caravan Palace, Monkey Safari, Stereo Express, Shazaalakazoo, Watcha Clan, La Caracane Passe, Balkan Beatbox, Mr. Scruff, Pakava-It, Mahala Rai Banda, Fanfare Ciocralia, Marovic Orchestra, Amsterdam Klezmer Band, Forty Thieves Orkestar, Odjbox, Movits, Leningrad, La Minor uvm.
AMPKULTUR – ein Projekt über Szenegrenzen hinaus. Mit Remote Controlled Youth, Funk Fatal, Sound Nomaden, HipHop Hooray Dortmund, Suburban, Kunterbunt Soundsystem, Roots Plague Soundsystem, MSF Soundsystem, Chalwa Sound, Tiefton, Bassbeschleuniger Dortmund, Project 615, Will Rap 4 Food, reggae-party.de, Firetrain, Supertuff Sound, Splintercell Sound, Globalibre Dortmund, 7dex uvm.