26 Okt 2012

26.10.2012 – ampkultur. die sechste

26.10.2012 // AMPKULTUR – ein Projekt mit Remote Controlled Youth, Funk Fatal, Sound Nomaden, HipHop Hooray Dortmund, Suburban, Kunterbunt Soundsystem, Roots Plague Soundsystem, MSF Soundsystem, Chalwa Sound, Tiefton, Bassbeschleuniger Dortmund, Project 615, Will Rap 4 Food, reggae-party.de, Firetrain, Supertuff Sound, Splintercell Sound, Globalibre Dortmund, 7dex uvm.

AMPKULTUR die Fünfte – Frei­tag 26.10.2012 – 23h.

//HipHop, Breaks & Ghettofunk meets "The Dark Side Of Dubstep" – auf 2 Floors.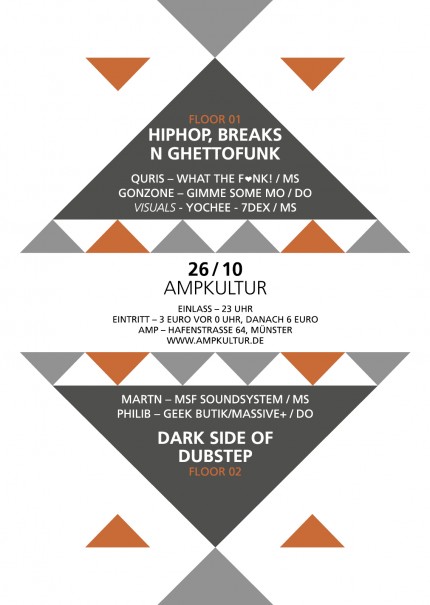 Tanz­tep­pich – Hip­Hop, Breaks & Ghettofunk.
Quiris (What The Funk/MS)
& GonzOne (Gimme some mo/DO)
Visuals von Yochee (7Dex/MS)
Mit Musik von A-Skillz, PimpSoul, Fort Knox 5, CMC & Silenta, Freestylers, Palov& Mishkin, A Tribe Calles Quest, The Four Owls, MastaAce, Dynamite Deluxe, C2C, Planet Asia, Scarface, LargeProfessor, Reks, Wu Tang, Action Bronson, Hiltop Hoods, Father Funk uvm.
—
Schwar­zes Loch – Dark Side Of Dubstep.
Martn (MSF Soundsystem/MS)
& Philib (Massive+/Geek Butik/DO)
Mit Musik von Burial, High Damage, Headhunter, Bar 9, Scuba, Kosh, Digital Mystikz, Kode 9, Skream, Cyrus uvm.
—
//soundcloud.com/gonzone
https://www.facebook.com/DJ.Qrs
//www.soundcloud.com/phildylan
//www.msf-soundsystem.de
[wpg]