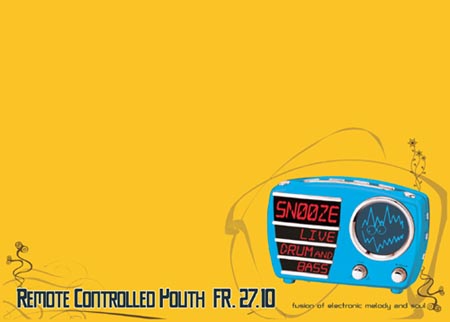 27 Okt 2006

27.10.2006 – Remote Controlled Youth

Freitag 27.10.2006 – 23:00 Uhr – Münster – Club Favela

*remote controlled youth*

finest quality in drum´n´bass partying!!!

with DJs

SNO – BEND:R – PHONEX

MC SMU aka. YOUNGBLOODed MC

VJ YOCHEE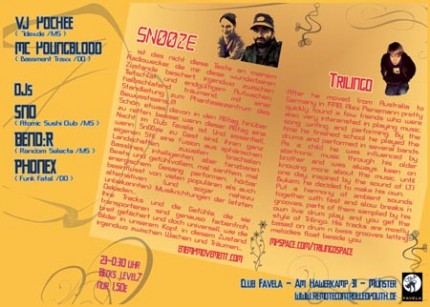 this time —> guests:
SN00ZE
… ist das nicht diese Taste an meinem Radiowecker, die mir diese wunderbaren Zustände beschert, irgendwo zwischen Tiefschlaf und endgültigem Aufwachen, halbschlafend träumend, mit einer Standleitung zum Phantasiezentrum des Bewusstseins…?! Schön, etwas davon in den Alltag hinüber zu retten, besser, wenn dieser 'Alltag' eine Nacht im Club Favela ist. Und essentiell, wenn Sn00ze zu Gast sind, ihren ganz eigenen Stil, eine Fusion aus sphärischen Landschaften, zuweilen brachialen Basslines, intelligenten, aber tanzbaren Beats und gefühlvollem, mal sanftem, mal energischem Gesang performen, hörbar beeinflusst von vielen populären als auch alternativen (und sogar nahezu unbekannten) Musikrichtungen der letzten Dekaden… Ihre Tracks und die Gefühle, die sie transportieren sind genauso farbenfroh, breit gefächert und doch universell, wie die Bilder in unserem Kopf, in diesem Zustand irgendwo zwischen Wachen und Träumen…
https://myspace.com/sn00zednb
TRILINGO
After he moved from Australia to Germany in 1998, Alex Pienemann pretty quickly found a few friends who were also very interensted in playing music, song writing and performing. By the time he finished school he played the drums and performed in several bands. As a child he was influenced by electronic music through his older brother and was always keen on knowing more about the music, until one day, inspired by the sound of LTJ Bukem, he decided to make his own.
Put a harmony of ambient sounds together with fast and slow breaks 'n grooves, parts of them sampled by his own live drum play, and you get the style of Trilingo. His tracks are mostly based on drum n bass grooves letting melodies float beside you.
https://myspace.com/trilingospace
PS: Das wird sooo…. JEAH! :D
Flyer www.remotecontrolledyouth.de/images_flyer/rcy06_oktober_back.jpg
Web www.remotecontrolledyouth.de